Sonus Faber LUMINA V review
By
www.hometheaterhifi.com
Posted 01 July 2022
Building upon the foundation set by the Lumina III, the Lumina V kicks things up a notch with larger bass drivers, an improved crossover network, and additional cabinet bracing. It's all gracefully wrapped in a blend of wood and leather that exemplifies Italian craftsmanship. Backing up those good looks is clean treble response, a smooth, musical midrange, and solid bass performance.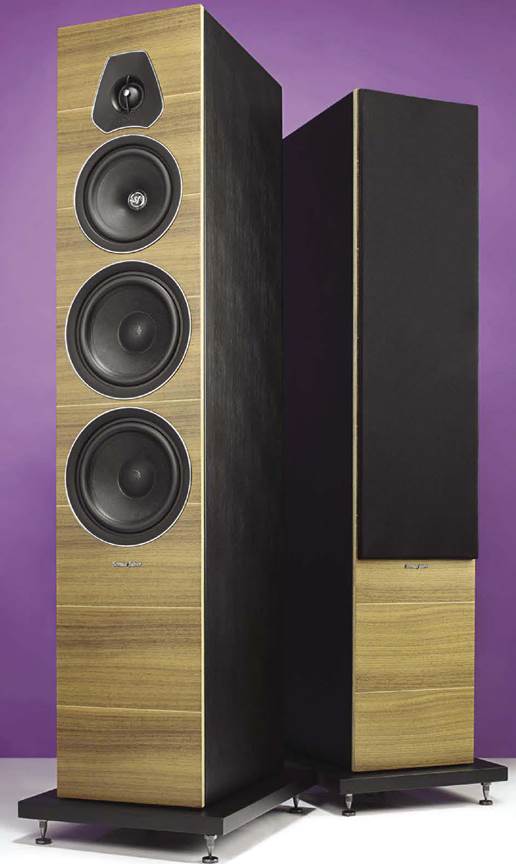 THE HIGHLIGHTS
Sonus faber Lumina V Loudspeaker
Straight lines + wood + leather = a simple, yet elegant design
Solid construction for the price point
Made in Italy
The bottom-firing port allows for flexible room placement
Flattering to even poor-quality source material
Performance is much closer to high-end offerings than you'd expect
DESIGN
As Sonus faber's least expensive line, the Luminas are subject to a few cost-cutting moves not seen in the brand's more expensive speakers. First, there are no gracefully curved "lute shape" cabinet walls, which are a long-standing Sonus faber tradition. Instead, the cabinet of the Lumina V is made of straight MDF panels. The side and top panels are covered in soft black leather, while the rear panel is a simple satin black veneer. The front baffle is multi-layered wood with a real wood veneer applied in the case of the walnut or wenge finishes. The walnut and wenge veneers have contrasting stripes of maple wood embedded in them, which gives a very classy appearance, particularly when combined with the matte finish. Piano black lacquer is also available if you are looking for a simpler look.

The drivers and internals are where things differ a bit from the Lumina III tower. While the Lumina V sports the same 29mm Damped-Apex-Dome™ tweeter and 150mm paper-coned midrange, the woofers have been upgraded to 165mm (6.5 inches) models from the 150mm/5.9-inch units in the Lumina III. The new units are a sandwich of syntactic foam core on the inside with cellulose pulp and natural fibers on the outside to keep them both rigid and light. Internally, the Lumina V gets a new crossover design, the "Hybrid IFF Crossover – Paracross Technology™" unit. The Hybrid IFF Crossover "combines Interactive Fusion Filtering, first introduced in the Maxima Amator, with the Paracross Topology™, where reactive components (capacitors and inductors/coils) are placed on the negative rail of the circuitry. The resulting benefits include a reduction in the drivers' back EMF (Electro Motive Force), allowing them to operate in a maximally interconnected and organic way, and lowering of crossover sensitivity to radio frequencies, further improving sound definition." The other key internal change is the addition of a lute-shaped enclosure for the midrange and tweeter. Not only does this additional enclosure improve the structural rigidity of the cabinet, but it also improves the drivers' performance by reducing standing waves. This should lead to a more natural midrange presentation.
Back