ARTICLE: WHAT IS A STREAMER?
23 November 2021
WHAT EXACTLY IS A STREAMER?
By music streamer, we mean a device that has the ability to play audio stored in another location. This location can be over the Internet, in the form of a streaming service like Spotify or Tidal, or an external hard drive. As it sounds, Streaming means sending musical data in a stream from where the electronic music file originates to a device where it's played. Unlike CD players or Vinyl Turntables, music isn't playing in real time, but being sent in data chunks from the original file. Hence such music data is being 'streamed'. If you pause a CD player, the music immediately stops. But akin to removing the source of a river, remove the source of the music file with a streamer and the music keeps playing for a short time as some of the data has already been streamed. This is digital music data – in effect a code of 1's and 0's.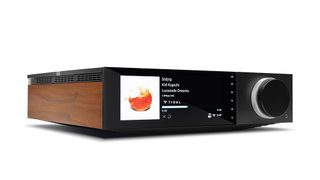 HOW DOES IT ACTUALLY WORK?
It feels as though we've now accepted streaming and welcomed it into the hi-fi community. Fears were real, and often founded, that it would replace physical media to detrimental effect, offering up inferior performance in return for perceived convenience.
In many ways, though, streaming has helped us fall in love all over again with those cumbersome old discs. Being able to throw music from your palm to your speakers can be wonderful, but our desire to savour an album's cover artwork and actually hold it has far from been quelled.
Back