ARTICLE: DOLBY ATMOS
25 November 2021
Dolby Atmos goes beyond the ordinary listening experience and puts you inside the song in a new spatial way, revealing every detail of the music with unparalleled clarity and depth. In other words, Dolby Atmos offers you a superb 3D atmosphere while at your music or movies! What magic is better than this?
DEFINITION OF DOLBY ATMOS
Dolby Atmos is a surround sound technology developed by Dolby Laboratories. It expands on existing surround sound systems by adding height channels, allowing sounds to be interpreted as three-dimensional objects. In contrast to channel-based systems, audio objects can be positioned anywhere in 3D space. Atmos supports 128 audio tracks and up to 64 speakers in the cinema, while home theaters require at least a 5.1 system plus two "height speakers," resulting in a 5.1.2 system. The height speakers can be in or on the ceiling, or they can be "upward firing" units built into or placed on top of the front speakers. However, Dolby recommends four height speakers for the best realism (a 5.1.4 configuration). Transformers: Age of Extinction was the first Atmos Blu-ray movie.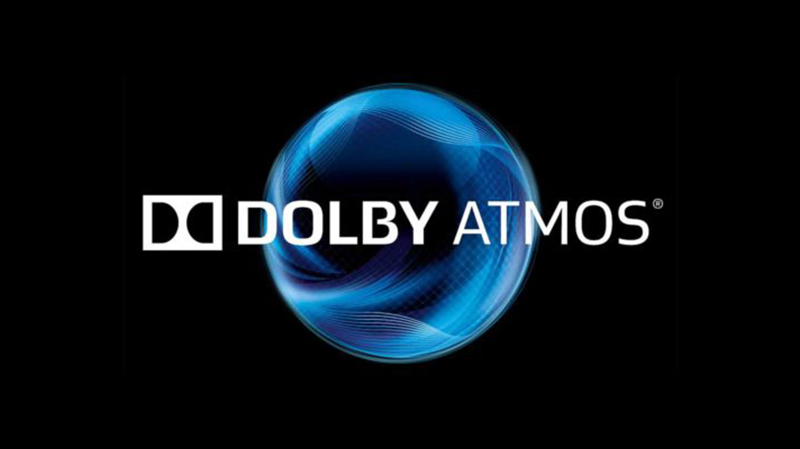 EXPLAINING THE TECH BEHIND DOLBY ATMOS
Dolby Atmos technology allows up to 128 audio tracks plus associated spatial audio description metadata (most notably, location or pan automation data) to be distributed to theaters for optimal, dynamic rendering to loudspeakers based on the theater capabilities. Each audio track can be assigned to an audio channel, the conventional format for distribution, or to an audio "object." Dolby Atmos in theaters has a 9.1 "bed" channels for ambience stems or center dialogue, leaving 118 tracks for objects. Atmos for home in films has only 1 bed channel in LFE and usually 11 dynamic objects. In Atmos games ISF (Intermediate Spatial format) is used, that supports 32 total active objects (for 7.1.4 bed 20 additional dynamic objects can be active). Each object specifies its apparent source location in the theater, as a set of three-dimensional rectangular coordinates relative to the defined audio channel locations and theater boundaries. For Dolby Atmos, the nomenclature differs slightly: a 7.1.4 Dolby Atmos system is a conventional 7.1 layout with four overhead or Dolby Atmos enabled speakers.
Dolby Atmos content is authored using compatible digital audio workstation software or a suitably equipped large format audio mixing consoles such as AMS Neve's DFC or Harrison's MPC5.
DOLBY ATMOS MILESTONE COLLABORATIONS
(STAR WARS: BATTLEFRONT)
One of the anticipated collabs by Dolby Atmos was when they came into feature in one of the biggest video game franchises of all time- STAR WARS: BATTLEFRONT 2. The world was taken by surprise when it first appeared in the game which offered players and audiences the full spectrum and 3D sound that really impacted the whole gaming experience. This was Star Wars at its peak!
(CINEMO)
Dolby has been driving audio innovation for over 50 years and is now bringing an audio revolution to the car with Dolby Atmos Music, an immersive music experience that adds more space, clarity and depth to audio. Instead of hearing the sound in stereo, Dolby Atmos gives the listener the feeling of being inside the music, as creators are able to strategically place distinctive audio elements into a three-dimensional sound field, offering a fully immersive soundstage. By working with Cinemo, a company renowned for their infotainment innovation and expertise, car makers will be able to access immersive audio, enabling automotive companies to provide a seamless, Dolby Atmos Music listening experience to vehicle owners.
Andreas Ehret, Director of Automotive at Dolby Laboratories said: "Dolby Atmos is a popular feature in smartphones, home entertainment, smart speakers and PCs. However, bringing high-quality audio to the automotive world isn't like working in the consumer electronics space. Car manufacturers need infotainment specialists that understand their needs. That's why Dolby is collaborating with Cinemo, a company with a history of infotainment innovation."
Back