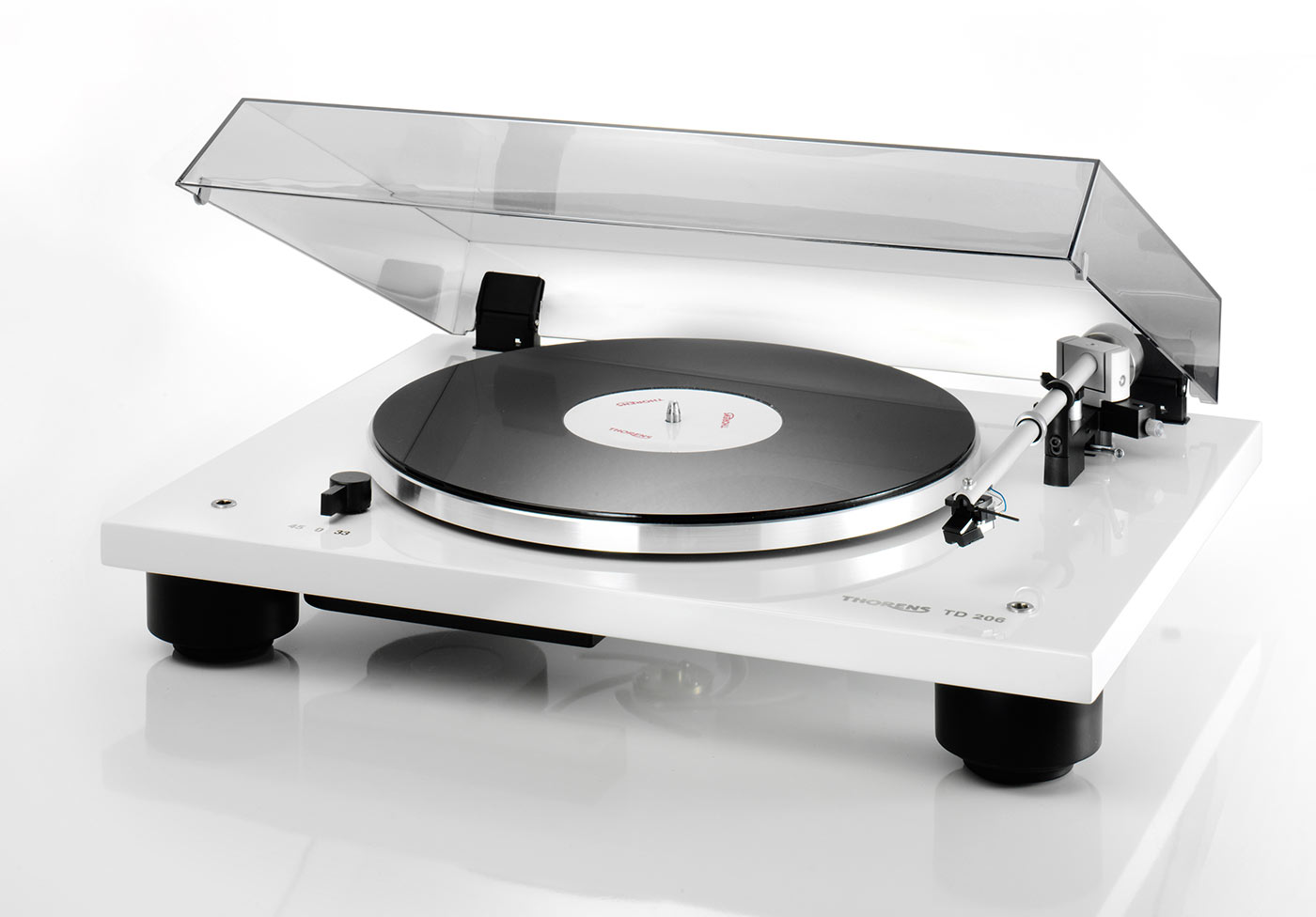 PLEASE TAKE NOTE. ITEM IS BRAND NEW BUT OPENED BOX TO INSPECT THE TURNTABLE. NEVER PLAY BEFORE. BOX WAS SLIGHT DAMAGE BECAUSE OF WATER STAINS.
A musical familiy.
The TD 206 and TD 209 turntables are the younger siblings of the revolutionary, multiple-award-winning TD 309. However, they don't have to live in the shadow of their older brother. Both models are built using only high-quality materials and parts. And both share a number of technical features with the TD 309, ensuring that their replay quality is up there with the best.The new TP 90 tonearm is based on the tried-and-tested TP 92 and uses the same ultra-low-friction, high-performance bearing and the innovative zero-stiction anti-bias system. The arm tube is made from rolled aluminium that is damped using RMR technology (reduced-modal-resonance), and the stainless-steel counterweight at the end of the arm tube is double-decoupled. Tonearm height, azimuth and overhang are useradjustable.
Includes THORENS TAS267 Cartridge
Specifications
Operation manual
Drive System belt-drive (flat belt around sub-platter)
Motor servo-controlled DC motor
Speeds 33-1/3, 45 rpm
Speed Change Electronic
Platter 12" / 0.9 kg (aluminium/acrylic)
Tonearm THORENS TP 90
Pick-up Cartridge AT-95 B
Anti-skating (Bias) by magnet
Automatic Shut-off none
Power Supply external plug-in power supply, 12 V DC/AC, 6 W min.
Dimensions 475 x 125 x 370 mm (W x H x D)
Weight 5.6 kg
Finish MDF plinth with laquer in red, black or white (high gloss)
Scope of Delivery power supply, dust cover (acrylic), RCA interconnects, stylus gauge, spirit level,
cartridge alignment protractor
No review found.
Please Login to post review.