Key Features
Weatherproof Construction – Manufactured using a proprietary plating and powder coating process, the KEF Ventura 6 had to endure 1,200 hours of direct salt spray testing and is UV protected to withstand the harshest environments with an operating temperature from -40° to +70°C.
Versatile Mounting System – An included ratcheting aluminium mounting bracket allows the speaker to be rotated 180° and the symmetrically square KEF logo can be rotated in 90° increments increasing installation options while retaining the correct finished appearance. The speaker also includes ¼-20 brass inserts for use with many aftermarket mounting systems.
Stainless Steel / Brass Hardware – The included hardware is made from materials designed to withstand the same extreme operating conditions as the speaker, ensuring the complete assembly is kept free of corrosion and discoloration.
Fluid Cooled Aluminium Tweeter – The high-power anodised aluminium tweeter is cooled by a ferro-fluid liquid greatly improving it's thermal handling capacity and reliability
IP65 Certification – The speaker assembly is completely sealed from dust and water ensuring that even direct salt spray will not harm any components.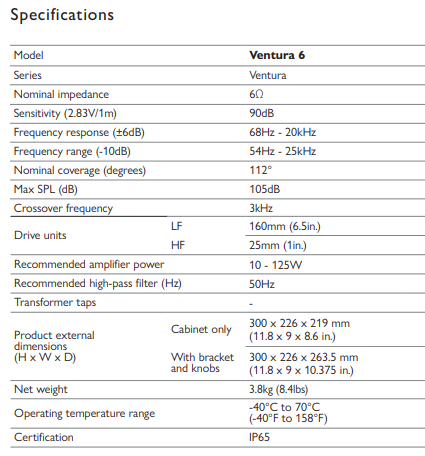 No review found.
Please Login to post review.