SOUND
HiFi on the go
Detail. Clarity. Power. MUO has it all. Featuring a specially designed version of KEF's legendary Uni-Q driver array, MUO can deliver all the glories of the original performance in full-range, sensational sound. You can choose to enjoy in different modes, too: solo, stereo paired or 'dual-connect' party mode. You can just sit back and enjoy while MUO does the work.
CONNECTIVITY
Listening made easy
MUO provides flexible options for listening to your music. Enjoy near CD quality through Bluetooth using Qualcomm's aptX codec, or connect your compatible device through an auxiliary cable to experience high resolution audio.

DESIGN STORY
Design by Ross Lovegrove, sound by KEF
When visionary designer Ross Lovegrove joined forces with KEF the mighty MUON was born. Continuing this vibrant collaboration, MUO is a speaker that inherits both MUON's sculptural organic form and breakthrough acoustic technologies. With each shade of the six striking matte colour options embodying its own character - from the delicate glow of the Sunset Orange to the ferocity of the Gunmetal Grey - MUO is the last word in art with a purpose.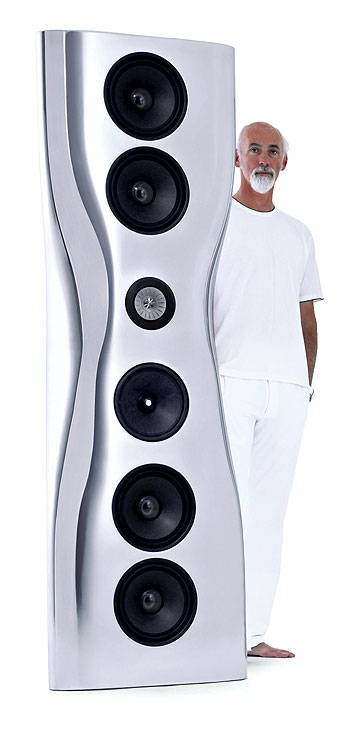 About Ross Lovegrove
It's no coincidence that the MUO echoes the sculptural form of KEF's iconic MUON speakers, because design guru Ross Lovegrove teamed up with our engineers on both. Using premium quality materials throughout, the unique and satisfyingly hefty structure they developed eliminates unwanted cabinet vibration - all you hear is the rich, breathtakingly detailed output of the drivers. The shape itself has been expertly designed to allow optimal sound projection into the room and is complemented by five suitably cool finishes: Horizon Gold, Storm Grey, Light Silver, Neptune Blue and Sunset Orange.
DIMENSIONS
H80 x W210 x D60mm
H3.1 x W8.3 x D2.3in
WEIGHT
0.8kg (1.8 lbs.)
DRIVER UNITS
2 x 50mm (2.0in.) Miniature Uni-Q driver
1 x Auxiliary Bass Radiator (ABR)
POWER UNITS
5V D.C. 2A
BLUETOOTH RANGE & MEMORY
10m
8 devices
BLUETOOTH CAPACITY
2 devices
BATTERY TYPE & CHARGING TIME
Li-ion rechargeable battery
3 hours to fully charge
BATTERY LIFE
12 hours playback time
SMARTNESS
KEF MUO APP download (Android 4.0 or later)
INPUTS
Bluetooth 4.0 with aptX® codec
3.5mm AUX
Micro USB – charging and firmware update
No review found.
Please Login to post review.