CX SERIES 2. THE SOUND OF PROGRESS.
Half a decade after the CX range redefined performance at its price point, it's time to reimagine, reengineer and reinvigorate. The all-new CXA61 and CXA81 integrated amplifiers build on the foundations laid (and the Awards won) by CXA60 and CXA80, but with a fresh and progressive perspective.
The CXA61 is 60 watts per channel of pure excitement. It's a punchy and upfront listen, without giving away detail or precision - so it's just as much at home in the mosh-pit as it is the conservatoire.
LET YOUR MUSIC MOVE YOU
The CXA61 is designed to bring you closer to the music you love. It's designed to put you right at the heart of your favourite recordings, telling you the story of every note in the most natural, most effortless, most detailed way imaginable. Analogue or digital, lo-fi or hi-res, the CXA61 lets the music take you where you want to go.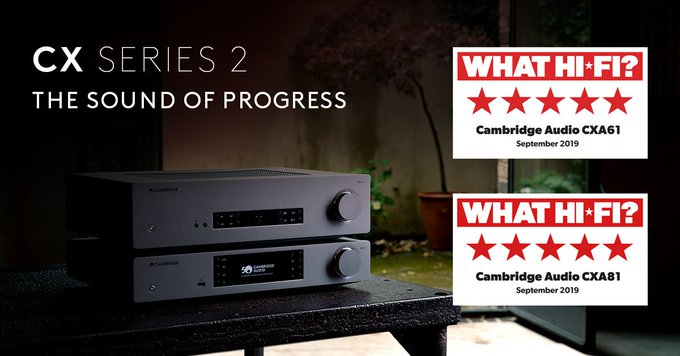 UNCOMPROMISED SOUND
The CXA61 has been engineered, refined and finessed with only one objective in mind: to deliver the most thrillingly musical sound you've ever experienced. Every choice of component, and every engineering decision, has been made in order to minimise colouration of the sound and maximise its accuracy. Cambridge Audio has drawn on every one of its 50 years of experience to make the CXA61 its most accomplished integrated amplifier yet.
ALL OF THE MUSIC
Because it's designed to deliver the maximum musical experience no matter where the music is coming from, the CXA61 has an entirely reengineered digital board featuring the industry-standard ESS Sabre ES9010 K2M digital-to-analogue convertor. The CXA61 can bring digital audio files up to state-of-the-art 32bit/384kHz and DSD256 resolutions vividly to life, combining convenience with performance in a way unheard-of until now.
POWER WITHOUT CORRUPTION
An oversized toroidal transformer gives the CXA61 a muscular 60 watts of power for each channel. Painstaking engineering gives it super-low levels of distortion and supreme electrical efficiency. The result is an amplifier with limitless reserves of power, ready to maximise the dynamic potential of any loudspeakers and able to play at any volume level without stress or distortion.
COMPLETE MUSICAL FREEDOM
Pair any Bluetooth device to the CXA61 to stream up to aptX HD-quality audio. Because there's no need to compromise your musical experience when you decide to cut the cord.
SONIC INTEGRITY
The CXA61 features a reimagined power amp stage with optimised capacitors values, and a revised volume pot designed to offer minimised crosstalk. The result is a clean, short and pure signal path that allows your music unmatched coherence - at any volume.
PARTNER FOR LIFE
The amplifier is the heart and the engine of any system - and the CXA61 is able to power your favourite speakers and form the centre of your musical experience for years to come.
Tech Specs
POWER OUTPUT
60W RMS into 8 Ohms, 90W RMS into 4 Ohms
DAC
ESS Sabre ES9010K2M
FREQUENCY RESPONSE
<5Hz– 60kHz +/-1dB
ANALOGUE AUDIO INPUTS
4 x RCA, 1 x 3.5mm MP3 input (front panel)
DIGITAL AUDIO INPUTS
1 x S/PDIF coaxial, 2 x TOSLINK optical, 1 x USB audio, Bluetooth (integrated)
COMPATIBILITY
TOSLINK optical: 16/24bit 32-96kHz PCM only, S/PDIF coaxial: 16/24bit 32-192kHz PCM only, USB: audio profile 1.0/2.0 (default 2.0), up to 32bit 384kHz PCM, up to DSD256 or DoP256, Bluetooth: 4.2 A2DP/AVRCP supporting up to aptX HD (24bit 48kHz)
BLUETOOTH APTX HD RECEIVER BUILT-IN
Yes
ROON TESTED
Yes
OUTPUTS
Speakers A+B, 3.5mm Headphone, Preamp Output, Subwoofer Output
REMOTE CONTROL
Yes
MAX POWER CONSUMPTION
600W
STANDBY POWER CONSUMPTION
<0.5W
DIMENSIONS (H X W X D)
115 x 430 x 341mm (4.5 x 16.9 x 13.4")
WEIGHT
8.3kg (18.3lbs)
BOX CONTENTS
CXA61 Integrated Amplifier, Power Cable, 3 x AAA Batteries, Remote Control, Control Bus Cable
No review found.
Please Login to post review.